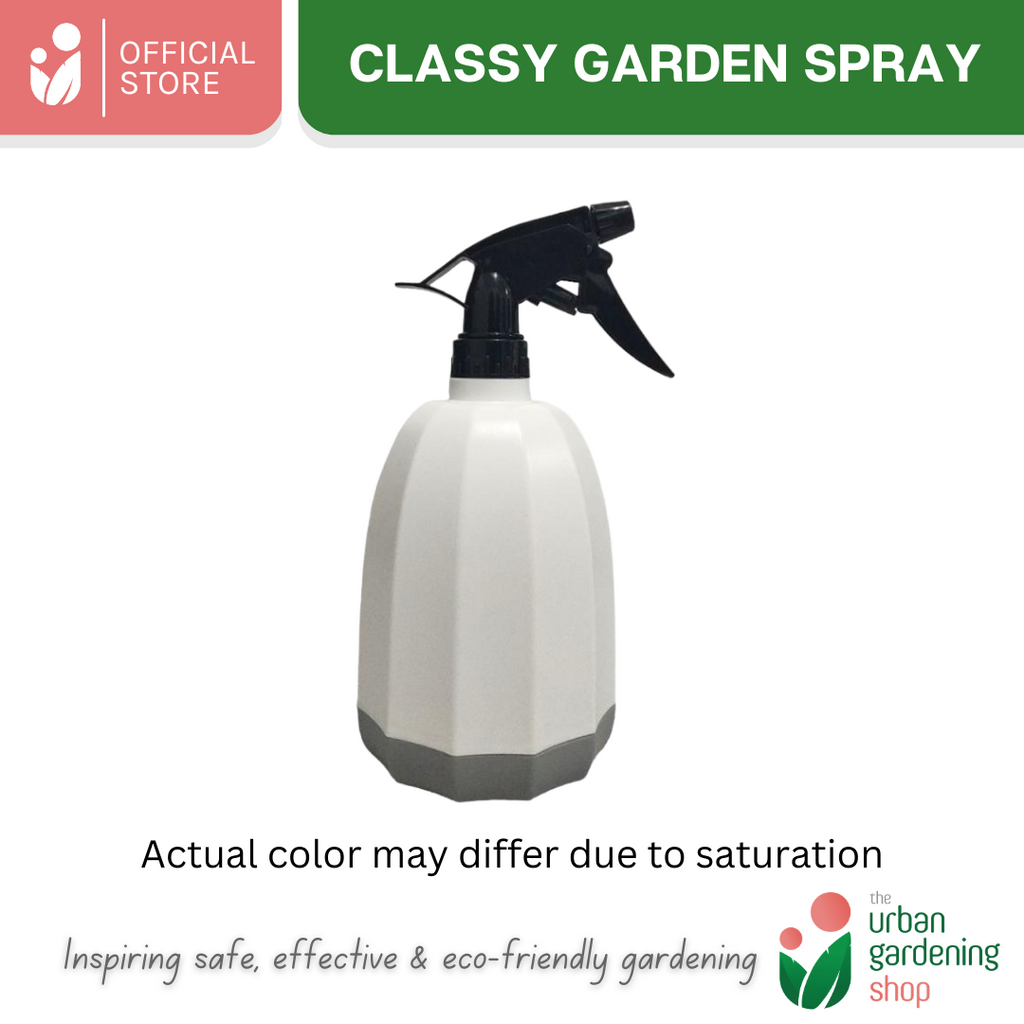 500ml Indoor Garden Spray Bottle - Stylish and Multifunctional Garden Spray Bottle
₱ 149.00 ₱ 220.00
GARDEN SPRAY BOTTLE
Holds up to 500ml
Elegant, Stylish and Functional
Gentle Sprinkling Spray
For Small to Medium Sized Indoor Plants
GARDEN SPRAY BOTTLE
Holds up to 500ml
Elegant, Stylish and Functional
Gentle Sprinkling Spray
For Small to Medium Sized Indoor Plants
Available in 3 colors - white, pink and blue
(Actual color differs from photo due to saturation)
Spray bottles are versatile tools that find numerous applications in gardening. Here are some common uses of spray bottles in gardening:
Watering plants: Spray bottles can be used for gentle watering of delicate plants or seedlings. By adjusting the nozzle to produce a fine mist, you can provide a light and even watering to prevent damage to young or sensitive plants.
Foliar feeding: Spray bottles are often employed for foliar feeding, which involves applying liquid fertilizer directly to the leaves of plants. Diluted fertilizers or nutrient solutions can be sprayed onto the foliage, allowing plants to absorb the nutrients through their leaves. This method is particularly useful for providing quick nutrient boosts or correcting nutrient deficiencies.
Applying pesticides or insecticides: Spray bottles are commonly used to apply pesticides or insecticides to control pests and diseases in the garden. Diluted solutions of appropriate insecticides or organic pest control products can be sprayed onto the affected plants, targeting pests and minimizing their damage.
Applying fungicides: Similarly, spray bottles are useful for applying fungicides to combat fungal infections or diseases in plants. Fungicidal solutions can be sprayed onto the leaves, stems, or affected areas to help control the spread of fungal pathogens.
Mist propagation: Spray bottles can aid in plant propagation by misting cuttings or newly planted seeds. By misting the surrounding air and the plant material, spray bottles help maintain a humid environment, promoting successful rooting or germination.
Cleaning gardening tools: Spray bottles filled with water or a diluted cleaning solution can be used to clean gardening tools, such as pruning shears or trowels. Spraying the tools and wiping them with a cloth or brush helps remove dirt, debris, or sap, preventing the spread of diseases and keeping the tools in good condition.
Applying natural remedies: Spray bottles can be used to apply homemade natural remedies, such as insecticidal soap, neem oil solution, or vinegar-based sprays, for pest control or disease management. These natural solutions can be sprayed onto the affected plants to deter pests or combat certain plant diseases.
When using spray bottles in gardening, it's essential to choose bottles with adjustable nozzles that allow you to control the spray pattern and intensity. Additionally, ensure that the bottles are thoroughly cleaned after each use to prevent cross-contamination and maintain their effectiveness.
CARING TIPS:
Empty the container after every use.
Wash with water and dishwashing soap.
Clear tube with running water. Test spray regularly using water.
Do not expose to extreme heat.
If tube is clogged, try soaking in hot water for a few minutes.
Also available on Shopee or Lazada. Simply click this link:
https://linktr.ee/theurbangardeningshop