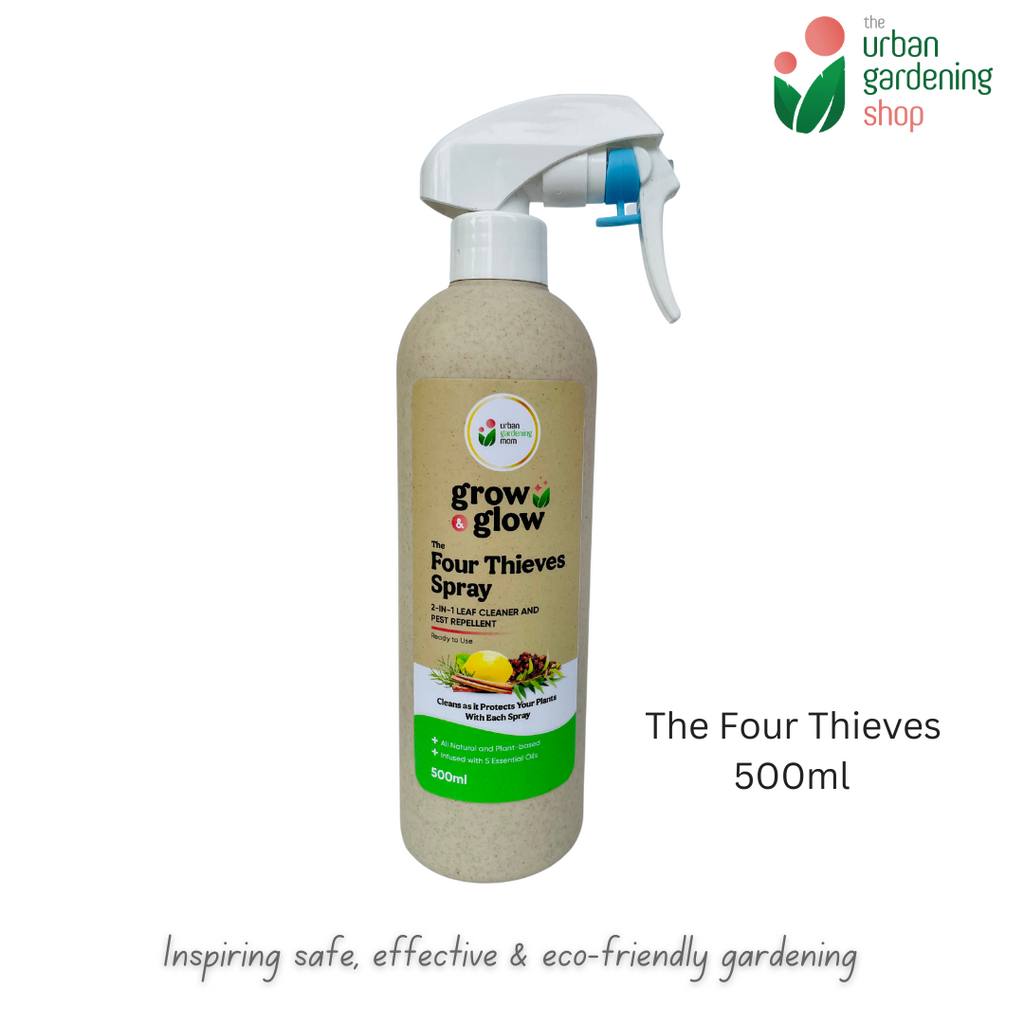 THE FOUR THIEVES BLEND All-Purpose Garden Spray - Disinfectant, Cleaning, Misting, Air Freshener and Insect Repellant in One – For Indoor Use
₱ 320.00 ₱ 400.00
THE FOUR THIEVES 
All-Purpose Garden Spray
Ready to Spray
Disinfectant Plant Misting Spray
For Indoor Plants 
Disinfectant and Misting Spray for Indoor...
THE FOUR THIEVES 
All-Purpose Garden Spray
Ready to Spray
Disinfectant Plant Misting Spray
For Indoor Plants 
Disinfectant and Misting Spray for Indoor Plants
Plant-derived Ingredients
Safe Around Kids or Pets
With Pleasant & Relaxing Aroma
Can be Used to Clean and Deodorize Surfaces
Repels Common Insects or Bugs
Infused with Clove Bud, Eucalyptus, Cinnamon Bark, Lemon and Rosemary Essential Oils  (Available in 500ml Bottles) 
This plant spray is infused with these essential oils:
CLOVE BUD ESSENTIAL OIL - anti-bacterial
EUCALYPTUS ESSENTIAL OIL – anti-bacterial/ anti- viral
CINNAMON BARK ESSENTIAL OIL – anti-fungal and anti-bacterial
LEMON ESSENTIAL OIL – anti-viral and anti-bacterial
ROSEMARY ESSENTIAL OIL – antibacterial
When combined, these oils create a powerful blend that helps prevent fungal and bacterial infection in your plants. Its strong, yet pleasant smell, also serves as deterrent for common pests, like aphids, mealy bugs, white flies, and similar soft bodied bugs.
HOW TO USE:
Spray on plant leaves and stems and surrounding areas, including undersides of the leaves. Use paper tissue or cotton cloth to wipe away the dust or dirt that accumulated on the leaves.  You can also use this spray as cleaner for surfaces and garden tools, or on potting media prior to sowing or transplanting.
Shake well before using. Do not dilute.
Test the spray on a small portion of your plant's leaves and wait for 24- 48 hours for any adverse effect. This spray is ideal for use as misting spray for most houseplants that generally prefer a humid atmosphere.  Use it with caution when spraying on cactus and succulents.
If you have allergies on any of these ingredients, avoid spraying on your skin and use a face mask and hand gloves for precaution.  
For best results, consume within one (1) year from purchase. 
CONTENTS         
Infused with Clove Bud, Eucalyptus, Cinnamon Bark, Lemon and Rosemary Essential Oils
Castile Soap
Purified Water
THE LEGEND OF THE FOUR THIEVES
According to the legend, way back in 1413, the time of the infamous Bubonic Plague which devastated a large portion of France, four thieves were captured and charged for stealing from the sick and dying. Surprisingly, these thieves did not contract the disease even if they came in close contact with the victims. The judge who tried these thieves was so intrigued at how they were able to survive the plague. He told them that if they would share their secret, he would spare the thieves from the punishment of burning alive. The four thieves revealed the judge that they used these essential oils all over their body to protect them from the disease.  Thus this famous blend of clove bud, rosemary, cinnamon and eucalyptus thus became known as  the "Thieves Essential Oil Blend".  Over time, lemon oil was also added to provide that sweet aromatic scent that this blend is well-known for.
This oil blend has been known for its multitude of benefits and uses for the home, including as hand sanitizer, surface cleaner, plant cleaner, air purifier, bug repellant and decongestant. However, there is really no known official scientific documentation of these benefits and uses.