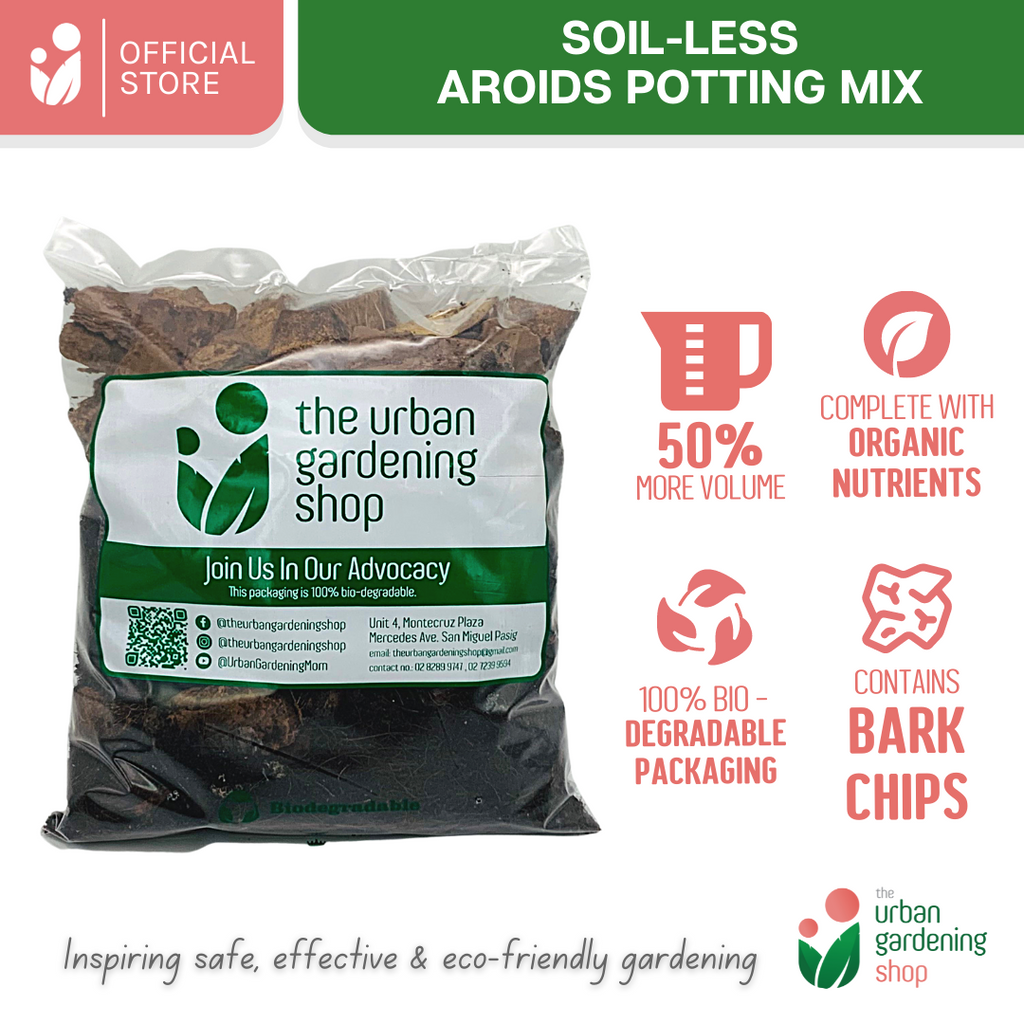 AROIDS SOIL -LESS POTTING MIX- Best for Monstera, Philodendron, Aglaonema, Alocasia, Pothos and Most Types of House Plants that tend to grow extensive aerial roots
₱ 55.00 ₱ 75.00
AROIDS POTTING MIX 

BIG PACK  8 liters
Approx 3.0 kg

SMALL PACK  2 liters
Approx 600g

PRODUCT HIGHLIGHTS:
- 50% more volume (measured in liters)
AROIDS POTTING MIX 

BIG PACK  8 liters
Approx 3.0 kg

SMALL PACK  2 liters
Approx 600g

PRODUCT HIGHLIGHTS:
- 50% more volume (measured in liters)
- Contains Premium Aged Bark Chips and Coco Chunks
- Soil-less with More Chunks
- Premium All- Natural Materials
- Complete with Certified Organic Nutrients
- Well-balanced Water Retention and Drainage
- Bio-degradable Eco-friendly Packaging

Our SOIL-LESS AROIDS POTTING MIX has gotten even better, now that we added more high quality all-natural ingredients to ensure that your precious plant babies develop a healthier root system.

WHAT ARE AROIDS?

Aroids is a term used colloquially to refer to a family of plants called Arum or Araceae. Many common houseplants belong to this family, including monstera, philodendron, aglaonema, alocasia. pothos, arrowhead vines, anthurium and zz plants. Most of these plants originated in the forest wilderness where they developed an extensive root system, allowing them to grow healthy despite the lack of direct sunlight. When potted, their growth become restricted, usually leading to soil-borne diseases. Therefore, it is important that their roots grow well, with sufficient aeration. Because they have been accustomed to growing in low light conditions, aroids had been domesticated as house plants.

WHY USE AROIDS POTTING MIX?
The most common mistake committed by houseplant growers is overwatering. Excess water trapped in the pot often leads to fungal infection and rotting of the roots. In some cases, root rot is irreversible, eventually killing the plant. Aroids generally need a well-draining potting media that allow unrestricted growth of roots.


WHAT'S NEW IN OUR AROIDS MIX?  
WE ADDED PREMIUM AGED BARK CHIPS
We have added aged bark chips made from premium pine and other evergreens into our mixture.  Bark chips trap air and water, further improving root aeration and overall drainage. They decay more slowly than other organic materials like coco chunks, which means that the potting mix remains chunky and airy for a longer period.  Even when fully decayed, they don't completely disintegrate, thereby providing air pockets within the potting mix. They also add trace elements to the soil, therefore improving your plant's ability to process nutrients.   
WE USED  AGED AND FERMENTED COCO CHIPS
Similar to bark chips, coco chunks allow excess water to drain well. But coco chunks retain and absorb more moisture/ water than bark chips, so that your plants' roots don't completely dry out.  Coco chunks therefore provide a well-balanced moisture retention and drainage capability.   
But we even went further by fermenting these materials in EM solution. EM provides "food" for beneficial microorganisms in the potting mix, so they can multiply faster and help eradicate harmful pathogens. This means even healthier roots for your plant babies that are less prone to fungal or viral infection.
WE ADDED MORE ORGANIC NUTRIENTS
Your plants will derive nutrients from the rich mixture of organic materials found in our potting mix, specifically vermicast, neem cake powder,  carbonized rice hull (CRH) and aged coco peat.  Vermicast is a good source of complete nutrients that help your plant grow bigger, and establish roots faster. Neem cake powder not only eradicates soil-borne parasites that destroy the roots, it also improves the nitrogen intake capability of your plants. CRH and coco peat are also rich in minerals and can store nutrients.
WE INCREASED THE VOLUME BY 50%
Each pack contains 50% more in volume than before. This means best value for your money compared to similar potting media available in the market today.  The small pack contains 2 liters while the big pack has 8 liters. That's definitely more value for your money.
WE PACKED IT IN A BIO-DEGRADABLE PLASTIC BAG
We understand the huge adverse environmental impact of using plastic packaging.  This is why we have invested considerably in our packaging material, which is 100% bio-degradable. This is a small price to pay to ensure that we do not contribute to the degradation of our environment.