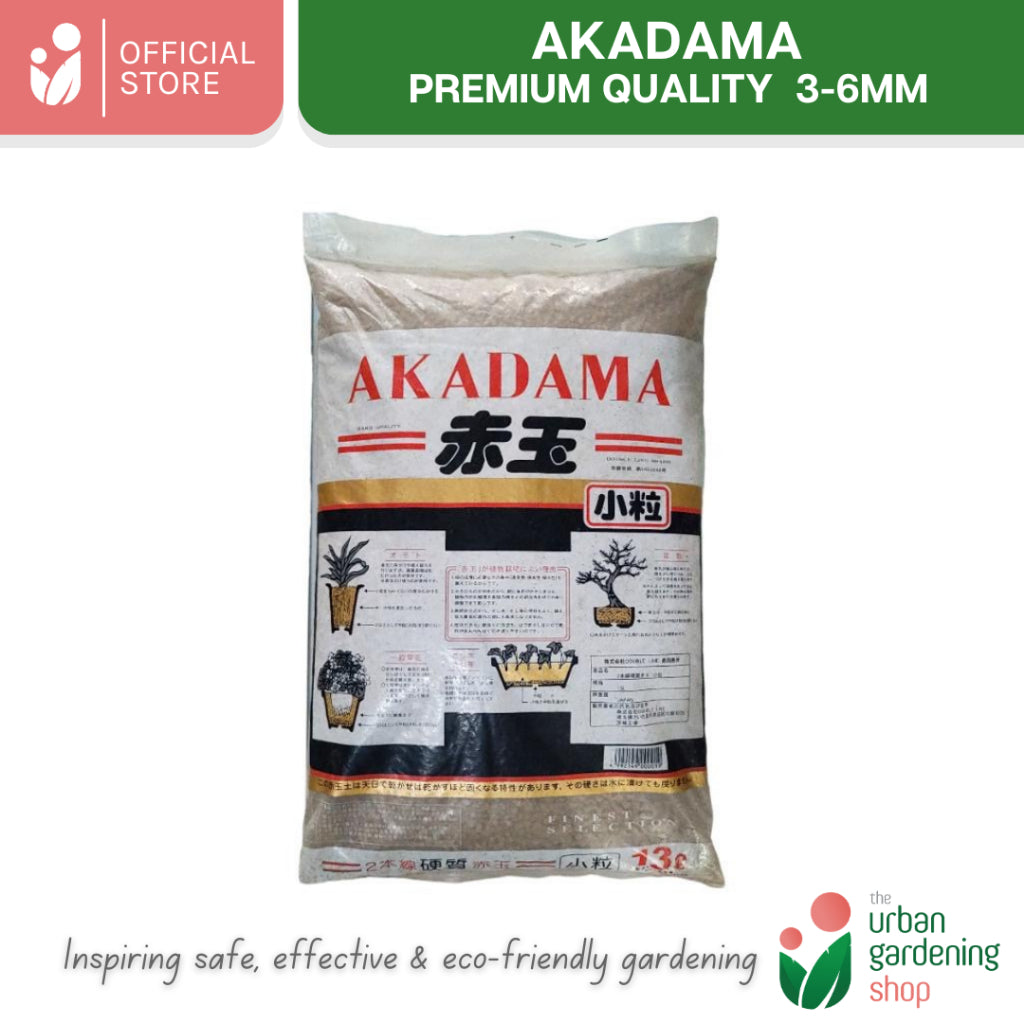 Hard Akadama - Small Grains 3-6 mm (Approx 13 liters per pack)
₱ 1,800.00 ₱ 2,000.00
Akadama Soil
1 pack - Approx 13 liters
Premium Hard Quality
BUY 4 for P6000 only
CLEARANCE SALE: For Bulk Purchase, send...
Akadama Soil
1 pack - Approx 13 liters
Premium Hard Quality
BUY 4 for P6000 only
CLEARANCE SALE: For Bulk Purchase, send us a chat message for bulk purchase (min 10 packs).
Akadama is a type of soil or substrate commonly used in bonsai cultivation, as well as in other forms of gardening like succulent cultivation. It is a specific type of volcanic clay soil that originates from Japan. The name "akadama" translates to "red ball" in Japanese, referring to its characteristic reddish-brown color and the spherical particles it forms.
Akadama has several desirable qualities that make it popular among bonsai enthusiasts and gardeners. It has good water retention capabilities, yet it also provides excellent drainage, allowing for a balanced moisture level for plants. The porous nature of akadama helps promote root development and aeration, which is crucial for the health and growth of bonsai trees and other plants.
When using akadama, it is typically mixed with other ingredients to create a well-balanced substrate. Common mixtures may include ingredients like pumice, lava rock, and organic matter such as compost or sphagnum moss. The exact proportions of these ingredients may vary depending on the specific plant's needs and the preferences of the gardener.
To use akadama, follow these general steps:
Prepare the pot: Ensure that the pot or container you're using has drainage holes at the bottom to prevent waterlogging. It's also a good practice to place a mesh or screen over the drainage holes to prevent the soil from escaping.
Prepare the akadama mix: Mix the akadama with other ingredients as desired. This combination will depend on the specific plant and its requirements.
Potting the plant: Place a layer of the akadama mix at the bottom of the pot, creating a solid base. Gently place your plant into the pot, ensuring that the roots are well-positioned. Fill the remaining space with the akadama mixture, pressing it down lightly to secure the plant in place.
Watering: After potting, thoroughly water the plant to settle the soil and eliminate air pockets. Ensure that water flows out through the drainage holes, indicating proper drainage.
Maintenance: Monitor the moisture level of the akadama mix regularly and water your plant accordingly. The frequency and amount of watering will depend on the specific plant's needs, environmental conditions, and the moisture-retaining properties of the akadama mix.
It's important to note that while akadama is beneficial for plants that require well-drained soil, it may not be suitable for all types of plants. Some plants have specific soil requirements, so it's best to research and consider the needs of your particular plant species before using akadama or any other soil mix.