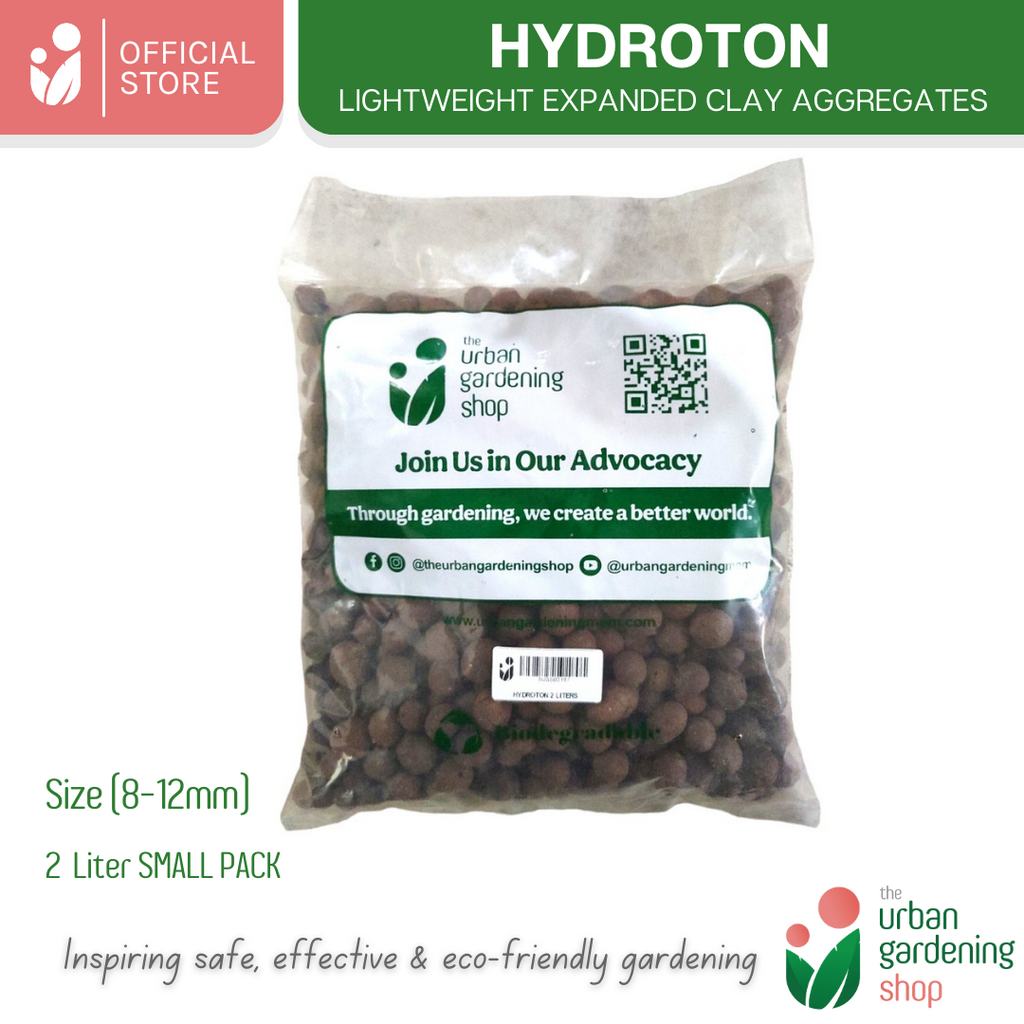 HYDROTON (Premium Quality)- Lightweight Expanded Clay Aggregate for Hydroponics and Soil Amendment
₱ 160.00 ₱ 250.00
PRODUCT HIGHLIGHTS
Premium quality (8-12mm)
Horticultural Grade
Sterile and lightweight
pH Neutral
Re-usable
1 liter per pack 
WHAT IS LIGHTWEIGHT EXPANDED CLAY AGGREGATE(Hydroton) ?
...
PRODUCT HIGHLIGHTS
Premium quality (8-12mm)
Horticultural Grade
Sterile and lightweight
pH Neutral
Re-usable
1 liter per pack 
WHAT IS LIGHTWEIGHT EXPANDED CLAY AGGREGATE(Hydroton) ?
LECA Balls or Hydroton is a growing media more popularly used in hydroponics. It is formed by firing clay at extremely high temperature. Compared to other growing media, LECA retains fertilizer and water better than coco peat, vermiculite  and rock wool.  While it is more commonly used in hydroponics, LECA can also be used in potted orchids and indoor plants as soil additive to improve drainage in garden soil and potting media. 
BENEFITS OF USING LECA
Ideal grow media for hydroponics, aquaponics, orchids and indoor potted plants
Minimizes soil-bound pests
Improves drainage, as it retains water and nutrients
Re-usable and washable
Capacity to hold air to keep plant roots oxygenated

For orchids and potted plants, it can be mixed with coco peat or peat moss, to improve soil aeration and water clogging
WHY CHOOSE OUR BRAND?
Our product is superior because:
1. Uniformity: High-quality hydroton should have consistent size and shape. This ensures even water distribution and root penetration throughout the growing medium.
2. pH neutrality: Good quality hydroton should have a neutral pH or be close to neutral. This allows for better control over the pH of the nutrient solution in hydroponic systems.
3. Durability: Hydroton should be durable and not easily break down or crumble over time. This ensures that it can be reused multiple times without disintegrating.
4. Water retention and drainage: The hydroton should have adequate water retention capability while still providing good drainage. It should hold enough moisture to keep the roots hydrated but not become waterlogged, allowing excess water to drain away.
5. Reusability: It can be easily cleaned and sterilized for reuse. High-quality hydroton should be able to withstand cleaning processes without deteriorating or losing its structural integrity.
Storage and handling instructions      
To store, open the package to air out.  
Keep lightly sealed and store in a dry place until ready to use.
This product should not be ingested.  Keep out of children's reach.       
To avail of various shipping promos and product discounts,  you may check our online shops in: