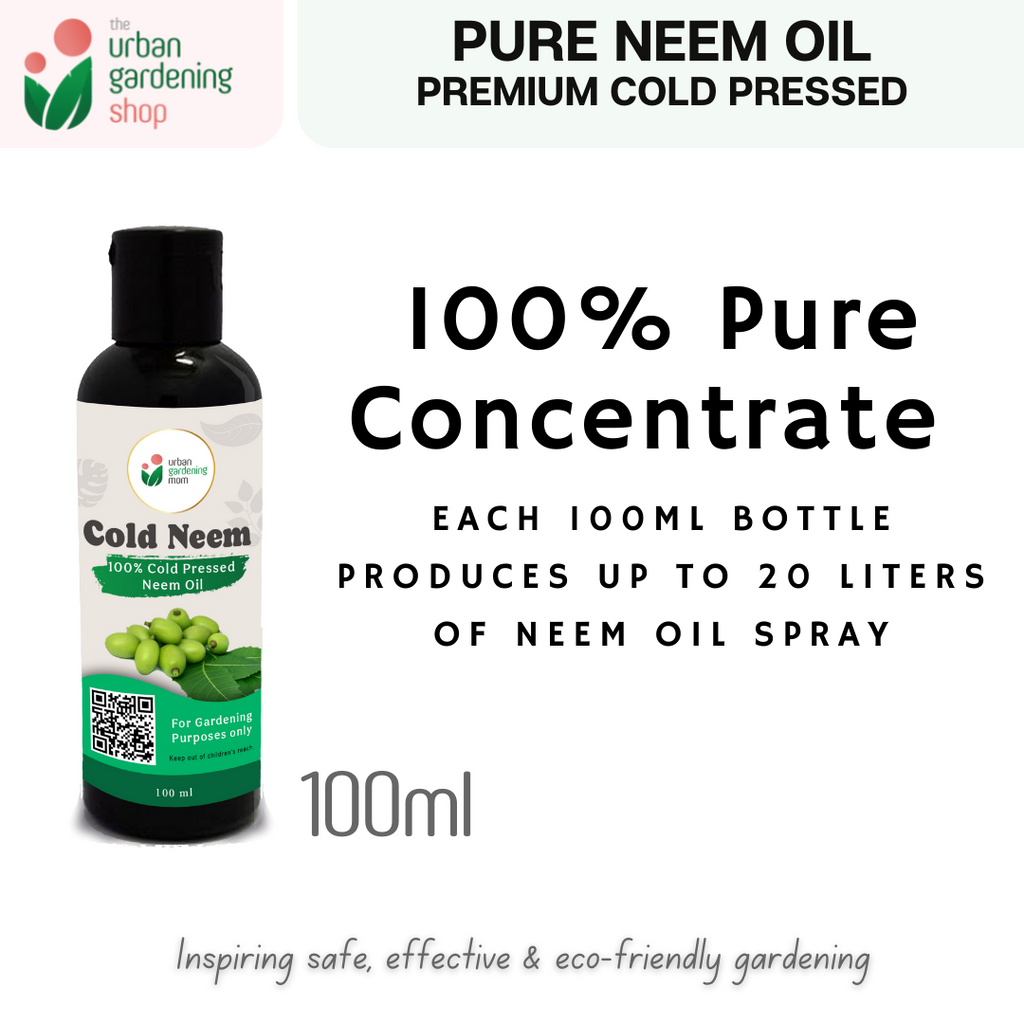 COLD NEEM 100% Pure Neem Oil Extracted from Neem Seeds using Cold Press Method
₱ 379.00 ₱ 500.00
COLD NEEM
100% Pure Neem Oil
Cold-Pressed Extraction
This Product is 100% Pure Neem Oil extracted from Neem seeds using Cold-Press Method. Cold-press method is the...
COLD NEEM
100% Pure Neem Oil
Cold-Pressed Extraction
This Product is 100% Pure Neem Oil extracted from Neem seeds using Cold-Press Method. Cold-press method is the GOLD STANDARD in extracting oils from the neem seeds. Neem Oil is extracted from seeds, which contain the most powerful concentration of AZADIRACHTIN. The COLD-PRESS method preserves the azadirachtin content in the oil that is extracted from the neem seeds. This is more effective than other neem oils available in the market, because the higher level of azadirachtin content is largely preserved.
PRODUCT SPECIFICATIONS
EXTRACTION PROCESS Cold-pressed
APPEARANCE Yellow brown to reddish green
ODOR Pungent smell like onion and garlic
SHELF LIFE 2 years
HOW TO USE NEEM OIL FOR PLANTS
1. Mix together 1 teaspoon (5ml) mild organic liquid soap (eg Castile Soap), 1 (5ml) teaspoon of pure neem oil and 500ml of warm water.
2. Pour the mixture in a spray bottle, and then shake vigorously.
3. Spray on plants, top and bottom parts of the leaves and stems. Repeat after 2 days as needed.
4. For plant maintenance, spray once a week for maintenance at regular dosage.
5. Some reminders: Spray at dawn or late afternoon. Some plants are prone to leaf burn when exposed to direct sunlight immediately after spraying. If using neem oil for the first time on any plant, it is best to test the solution on a few leaves and wait for 48 hours for any adverse reaction.
Keep out of children's reach.

Based on available public information, here are some of the commonly known benefits of NEEM OIL (from Seeds):
Natural Insecticide: Neem oil acts as a potent insecticide, effectively controlling and repelling a wide range of garden pests such as aphids, mites, caterpillars, mealybugs, and whiteflies. It disrupts the insects' feeding and reproductive cycles, ultimately leading to their demise. Unlike synthetic chemical pesticides, neem oil is safe for beneficial insects like bees, butterflies, and earthworms.

Fungal Disease Control: Neem oil exhibits antifungal properties and helps combat various fungal diseases that commonly affect plants, including powdery mildew, black spot, rust, and leaf spot. It inhibits the growth of fungi and prevents spore germination, providing protection to your plants.

Nematode Repellent: Neem oil acts as a natural repellent against nematodes, microscopic worms that can damage the roots of plants and hinder their growth. Applying neem oil to the soil helps deter nematodes and reduces their population, minimizing the risk of root damage.

Plant Growth Promoter: Neem oil contains natural growth-regulating compounds, such as gibberellins and auxins, which can stimulate plant growth and development. Regular use of neem oil can improve overall plant health, enhance nutrient absorption, and encourage root growth.

Organic and Environmentally Friendly: Neem oil is derived from a renewable resource and is considered an organic gardening product. It is biodegradable, breaks down relatively quickly, and does not leave harmful residues in the environment. It offers an eco-friendly alternative to synthetic pesticides and chemicals.

Nutrient Source: Neem oil contains essential nutrients like nitrogen, phosphorus, and potassium, which are beneficial to plants. When used as a foliar spray or added to the soil, neem oil provides these nutrients, promoting healthy growth and improving the vigor of your plants.

Seed Treatment: Neem oil can be used as a seed treatment to protect seeds from various pests and diseases. Coating seeds with neem oil before planting helps prevent damage caused by insects and pathogens, ensuring better germination and higher seedling survival rates.

Repels Animals: Neem oil has a bitter taste and a strong odor that repels animals such as deer, rabbits, and squirrels. By applying neem oil to plants or surrounding areas, you can deter these pests from feeding on your garden plants.
It's important to note that while neem oil is generally safe for humans, pets, and beneficial insects, it is recommended to keep the product away from children and pets.