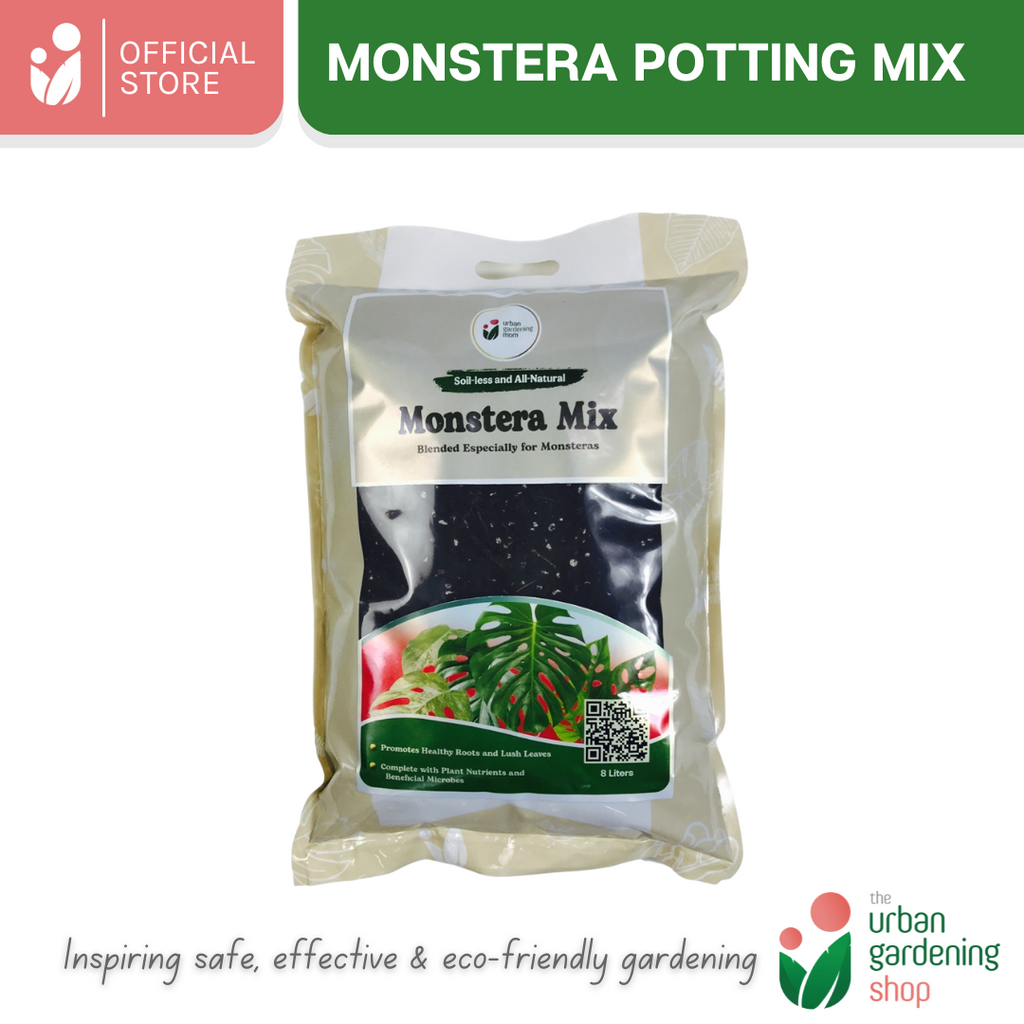 8-liter PREMIUM MONSTERA POTTING MIX Best Soil-less Mix for Monsteras and Similar Aroids
₱ 350.00 ₱ 500.00
MONSTERA POTTING MIX
Best Soil-less Mix for Potted Monsteras
8-liters per pack
In the tropical forests where Monsteras originated, their roots grow into...
MONSTERA POTTING MIX
Best Soil-less Mix for Potted Monsteras
8-liters per pack
In the tropical forests where Monsteras originated, their roots grow into the ground and around trees where they climb. So they are naturally suited for an environment where water and air can flow easily. Using ordinary garden soil (which is usually dense and sticky) for monsteras may result in over-wet roots, which often lead to root rot or unhealthy-looking plants. The best potting mix for monsteras should be well-draining, airy but still retains moisture, without being water-logged.
Why use Monstera Potting Mix?
MORE CHUNKS AND GRIT

This potting mix contains more chunks like coco chips and pine bark. They allow air pockets where oxygen can flow better to the roots. We've also added perlite and pumice, which provide better drainage so water will not stay at the roots for a long period of time.
ALL-NATURAL MATERIALS

We use only natural materials for our potting media. Not only are they effective for your plants, our potting mix is also safe to use and environment-friendly
COMPLETE WITH ORGANIC NUTRIENTS

We have added organic nutrients for your plants to feed them for several months. You don't have to apply any fertilizer for at least 3 months. Our potting mix retains just the right moisture that enables the roots to absorb nutrients as they are slowly released through the medium.
INFUSED WITH NEEM AND BENEFICIAL MICROBES

All our potting media are infused with neem which provide additional protection from soil-bound pests. We have also added beneficial microbes to help create a healthy environment for the plant root system.
 Also available at our online shops:

https://linktr.ee/theurbangardeningshop