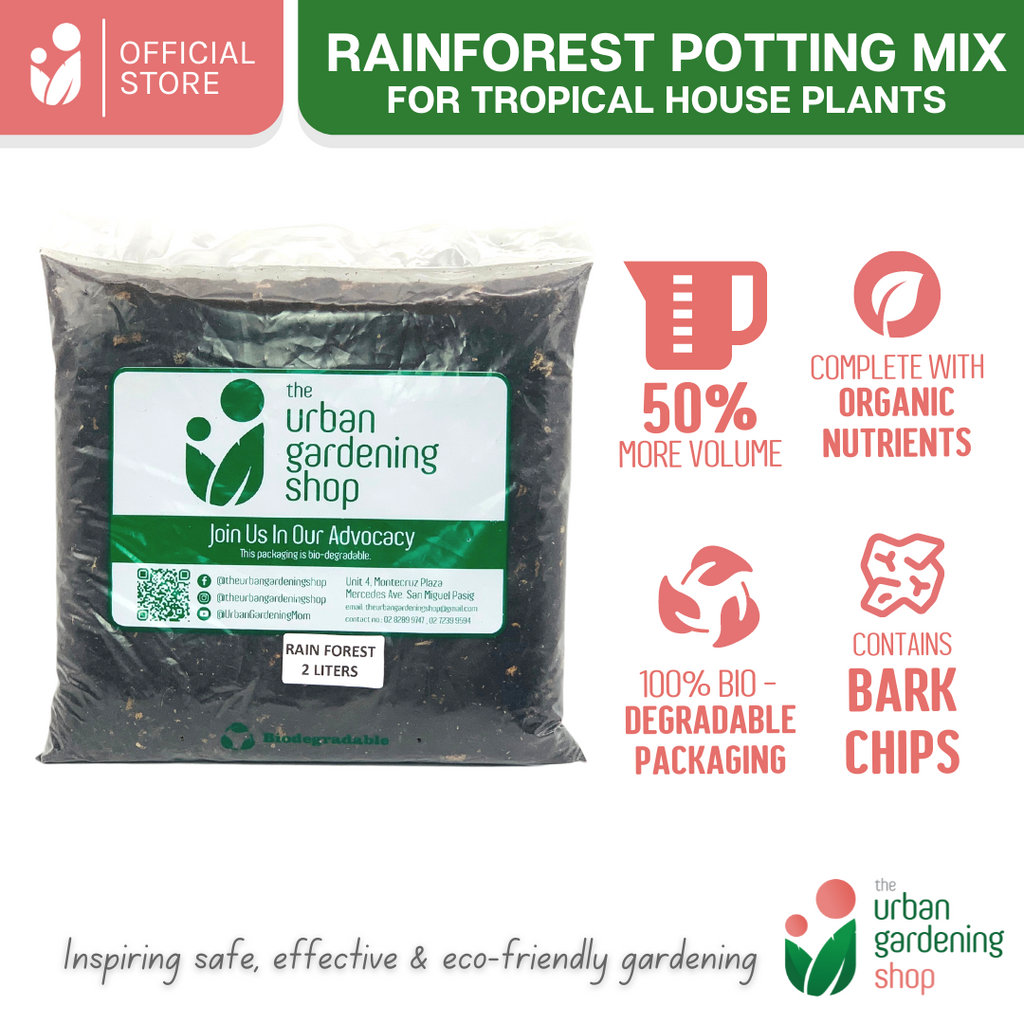 Soil-less Rainforest Potting Mix For Tropical House Plants | Most Ideal for Small to Medium Indoor Plant Varieties
₱ 64.00 ₱ 80.00
RAINFOREST POTTING MIX
Soil-less Grow Medium
Ideal For Tropical House Plants

2-liter Pack - Approximately 750 grams
8-liter Pack - Approximately 3.0kg

PRODUCT SUMMARY

- Ideal for indoor plants that require moisture...
RAINFOREST POTTING MIX
Soil-less Grow Medium
Ideal For Tropical House Plants

2-liter Pack - Approximately 750 grams
8-liter Pack - Approximately 3.0kg

PRODUCT SUMMARY

- Ideal for indoor plants that require moisture retentive, yet well-draining potting media (small to medium sized varieties)
- Contains all-natural ingredients that mimic the rainforest environment
- Promotes healthy root growth
- Light and airy texture
- Complete with nutrients to feed plants for at least 1 month
- Infused with neem powder to control soil-borne pests

CONTENTS

- Aged Bark Chips and Fermented Wood Chips
- Coco Peat, Peat Moss, Carbonized Rice Hull
- Vermicast, Neem Powder, Mycorrhizal Fungi
- Pumice

WHY USE RAINFOREST POTTING MIX?

Most tropical house plants originated from rain forests. The rain forest floor is rich with minerals and nutrients from decaying leaves and tree barks from surrounding trees and plants. The Rainforest Potting Mix mimics the environment in the rainforest floor where these tropical house plants used to grow. It is intended to improve retention of enough moisture in the roots needed by the house plants, but without over soaking. It is most ideal for small to medium sized house plant varieties like syngonium, calathea, ferns, spider plants, peperomias, violets, peace lilies and plenty of other varieties. It can also be used for young or juvenile aroid plants, especially during their active growing stage.