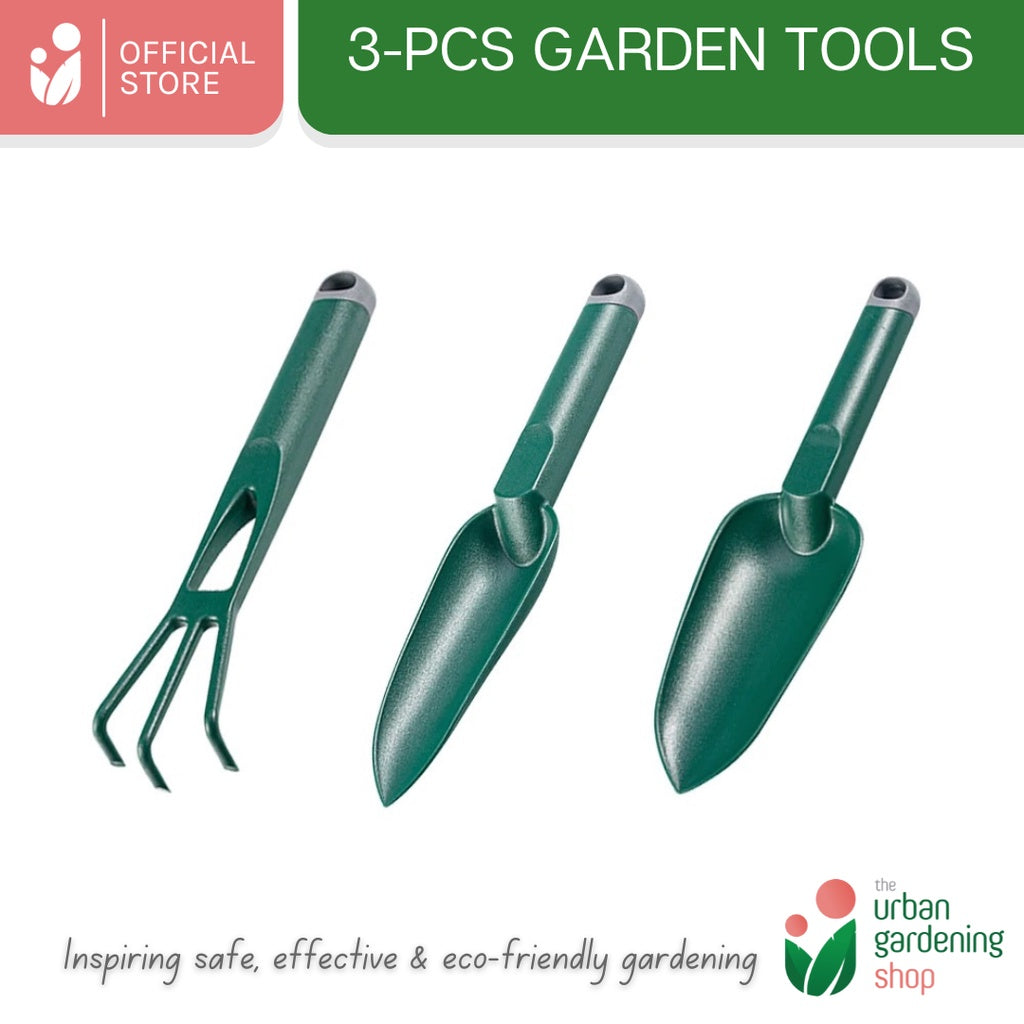 (3-pcs Green) PREMIUM HAND TOOLS 3pcs- Set for Gardening Purposes
₱ 475.00 ₱ 500.00
GARDENING HAND TOOLS SET (3 pcs)
Highly functional
Lightweight but durable
Stylish ergonomic design
Ideal for home gardening
Long-lasting and non-corrosive
...
GARDENING HAND TOOLS SET (3 pcs)
Highly functional
Lightweight but durable
Stylish ergonomic design
Ideal for home gardening
Long-lasting and non-corrosive
Set of 3  includes a rake, wide shovel and narrow shovel
HOW TO USE:
                RAKE  -  For loosening the soil
                WIDE SHOVEL -  For scooping and transferring soil or potting mix
                NARROW SHOVEL – For transplanting and digging
To store, clean all dirt residues thoroughly with water and air dry before storing.
This is not a toy. Keep out of reach of small children.
Also available at our online shops:
https://linktr.ee/theurbangardeningshop

Introducing the ultimate trio of garden tools, thoughtfully designed to elevate your gardening experience and stand the test of time. Our set includes a versatile rake, a wide shovel, and a narrow shovel, all meticulously crafted to make your gardening tasks a breeze.
Durability That Lasts: Crafted from high-quality, corrosion-resistant materials, these garden tools are built to endure seasons of outdoor use. No more worrying about rust or wear and tear – these tools are engineered to last.
Low Maintenance, High Performance: We understand that your time is precious. That's why our garden tools are not only durable but also incredibly easy to maintain. A quick wipe and rinse after use is all it takes to keep them in pristine condition.
Light and Sturdy: Gardening should be enjoyable, not strenuous. Our tools strike the perfect balance between being lightweight for ease of use and sturdy for effective digging and raking. Say goodbye to heavy, cumbersome equipment that leaves you fatigued.
Effortless Precision: The wide shovel is designed to effortlessly scoop up larger amounts of soil or mulch, while the narrow shovel excels at precise planting and digging in tight spaces. The rake, with its well-spaced tines, is perfect for leveling soil and removing debris with precision.
Versatile and Reliable: Whether you're a seasoned gardener or a beginner, this set of three tools covers all your gardening needs. From prepping soil for planting to maintaining your garden's neat appearance, these tools are your trusted companions.
Garden with Confidence: With these tools in your hands, you'll garden with confidence, knowing that you have the right equipment for the job. Their ergonomic handles provide a comfortable grip, reducing strain and ensuring a comfortable gardening experience.
Invest in a set of garden tools that will not only simplify your gardening tasks but also remain your faithful companions for seasons to come. Whether you're cultivating a flourishing garden oasis or tending to a modest balcony garden, our durable, rust-free, easy-to-maintain, light, and sturdy garden tool set will help you achieve your gardening goals effortlessly. Make the smart choice for your garden – choose quality, choose durability, choose our garden tool set.