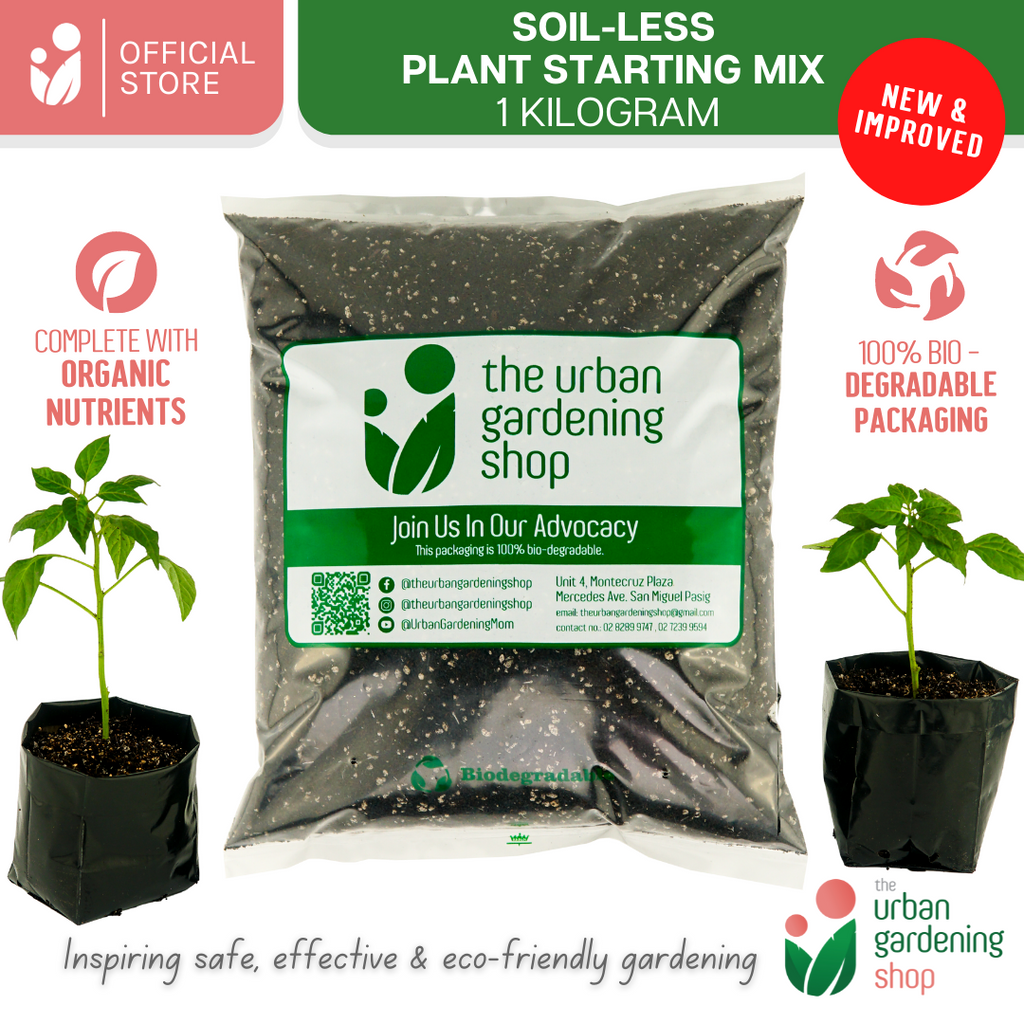 Soil-less Plant Starting Mix (2.0 Liter per Pack + FREE Starting Guide Kit)| Best Grow Media For Starting Plants
₱ 60.00 ₱ 70.00
PLANT STARTING MIX (2 liter per pack)
Best Grow Media For Seeds, Seedlings and Cuttings Propagation

Buy 1 and Get Free Gift (VOUCHER CODE: URBA99PSK

Great news to all our urban...
PLANT STARTING MIX (2 liter per pack)
Best Grow Media For Seeds, Seedlings and Cuttings Propagation

Buy 1 and Get Free Gift (VOUCHER CODE: URBA99PSK

Great news to all our urban gardening friends! We have improved our PLANT STARTING MIX to ensure that your seeds, seedlings and cuttings have a better chance of success. Start growing and propagating your home garden now.

WHY USE OUR PLANT STARTING MIX?

NOW INFUSED WITH BENEFICIAL MICRO-ORGANIDMS
Our potting mix is now infused with beneficial microbes and mycorrhizal fungi. These micro-organisms help protect your plants' young roots from harmful pathogens, thus increasing the survival rate of seedlings. As biological fungicides, these microbes can effectively prevent root fungal infection, which is one of the most common reasons for the failure in seeds or seedling propagation.

RETAINS SUFFICIENT MOISTURE AND AERATION
Our Soil-less Seed Starting Mix has been formulated to retain just enough moisture needed by your seeds or cuttings. Moisture awakens the seeds so they will sprout. You need to keep the potting media consistently moist without being soaking wet. Because it is soil-less and fluffy, it provides sufficient aeration that is needed by your seeds.

INFUSED WITH ORGANIC NUTRIENTS - FEEDS UP TO 2 MONTHS
Each pack is already complete with organic nutrients that can feed your young plants for up to 2 months. Once your seeds germinate, the young plants will derive nutrients from the rich mixture of organic materials found in our potting mix, specifically vermicast, neem cake powder, carbonized rice hull (CRH)and aged coco peat. Vermicast is a good source of complete nutrients that will help your plant grow bigger, and establish roots faster. Neem cake powder not only eradicates soil-borne parasites that destroy the roots, it also improves the nitrogen intake capability of your plants. CRH and coco peat are also rich in minerals and can store nutrients.

ECO-FRIENDLY PACKAGING
We understand the huge adverse environmental impact of using plastic packaging. This is why we have invested considerably in our packaging material, which is 100% bio-degradable. This is a small price to pay to ensure that we do not contribute to the degradation of our environment.

SPEND P99, GET OUR FREEBIE
Finally, because we really want to ensure your successful seed propagation, we are giving free biodegradable seedling pouches, vermiculite and seed starting guide. Vermiculite increases moisture retention which is crucial for most seeds to succeed. You may mix vermiculite into the seed starter mix or use it as topping on the seeds during sowing.


To avail of various shipping promos and product discounts,  you may check our online shops in: