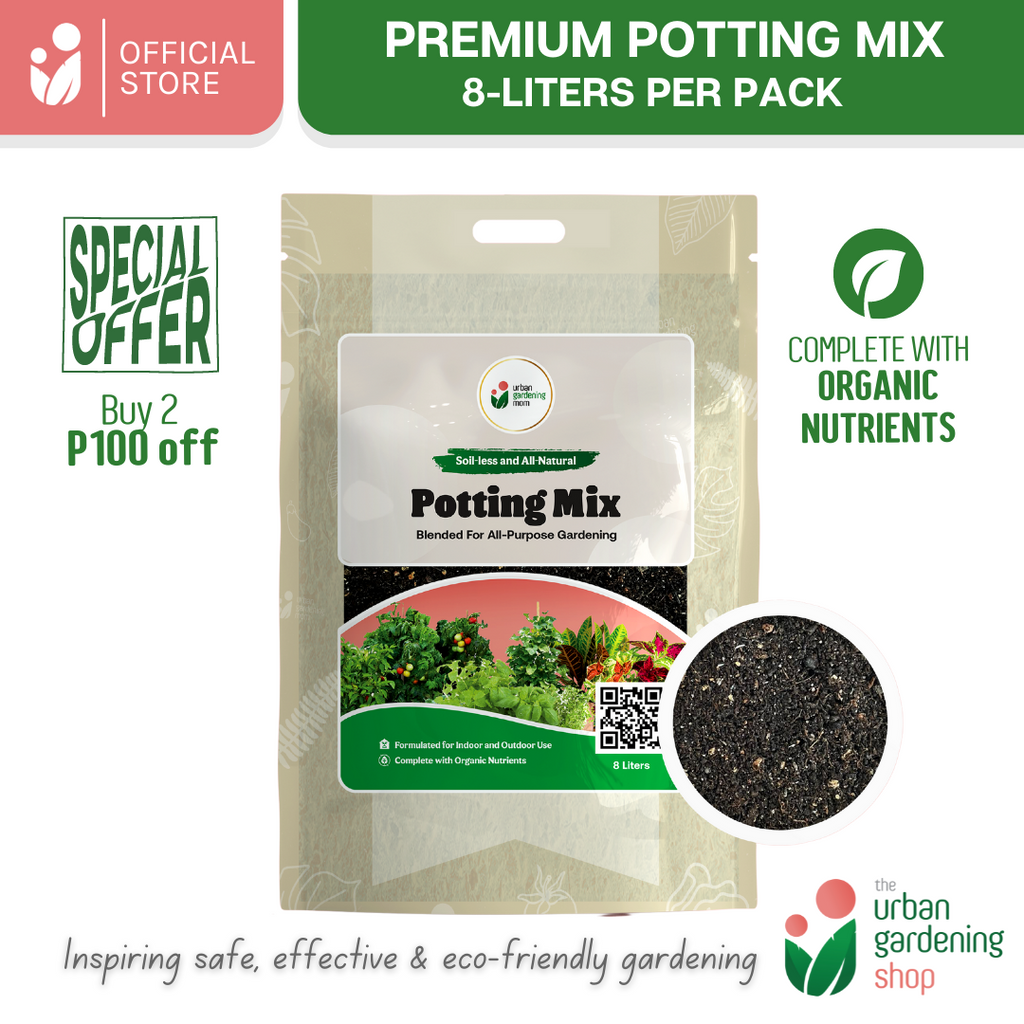 PREMIUM 8-liter All- Purpose Soil-less Potting Mix
₱ 320.00 ₱ 350.00
ALL-PREMIUM QUALITY
SOIL-LESS POTTING MIX by Urban Gardening Mom
Formulated for All-Purpose Container Gardening
Contains 8-liters 
WHY USE A GOOD QUALITY POTTING MIX?
More than 70 percent of the problems...
ALL-PREMIUM QUALITY
SOIL-LESS POTTING MIX by Urban Gardening Mom
Formulated for All-Purpose Container Gardening
Contains 8-liters 
WHY USE A GOOD QUALITY POTTING MIX?
More than 70 percent of the problems we encounter with our plants originate at the plant roots-  for example, root rot, fungal infections, damping off, over or underwatering, lack of essential nutrients, and many others. Most of the time, these issues go undetected and by the time you realize that there's something wrong, it is usually too late to remedy. It is therefore important that you prevent these soil-related problems from occurring - by using only good quality potting mix. Choosing a good quality potting mix minimizes unnecessary stresses to your plant babies, so they can better focus their energy on producing lush leaves, beautiful flowers or heavier fruits.
WHY YOU SHOULD NOT USE GARDEN SOIL OR LOAM SOIL FOR POTTED PLANTS
Typical garden soil tends to become compacted when dry, or sticky and muddy when wet. This condition is not healthy for your plants. Compacted soil restricts the flow of oxygen into the roots, which in turn leads to stunted growth and diseases. In the same way, any potting media that contains garden soil, like the so-called "Loam Soil",  is likewise not advisable for use for your potted plants.  After several months,  most "loam soil" turn into sticky mud that builds up silt at the bottom of the pots, thus blocking the drainage holes and restricting the flow of excess water out of the pot.  This would eventually result in over-soaked roots or root rot which is fatal for your plants.     
Our PREMIUM ALL-PURPOSE SOIL-LESS POTTING MIX provides your plants' roots  with superior aeration and drainage. It remains loose and airy even after several months of use, so this means less re-potting frequency.  It contains a well-balanced mixture of organic plant nutrients to feed your plants for at least four (4) months. This helps boost your plants while they are still getting adjusted in their new environment.  As an added feature, our potting mix is infused with beneficial micro-organisms and other helpful ingredients to protect your plants from harmful pathogens that attack the roots. 
WHY USE OUR PREMIUM SOIL-LESS POTTING MIX?
Contains Premium Quality Ingredients
More Organic Nutrients that Feeds for at least Four (4) Months
Remains Loose and Airy for a Long Time, Does Not Become Compacted
Lighter and More Sterile than Garden Soil
Contains Beneficial Micro-organisms For Healthier Roots
Infused with Neem and Diatomaceous Earth to Prevent Harmful Pathogens
Superior Product, Excellent Value for Money
Trusted Brand – Especially Blended By a Gardener for Gardeners
CONTENTS:   Premium Quality Ingredients like Aged Coco Dust, Peat Moss, Worm Castings, Pumice, Neem Powder, Horticultural Lime, Carbonized Rice Hull, Beneficial Micro-organisms and Diatomaceous Earth.