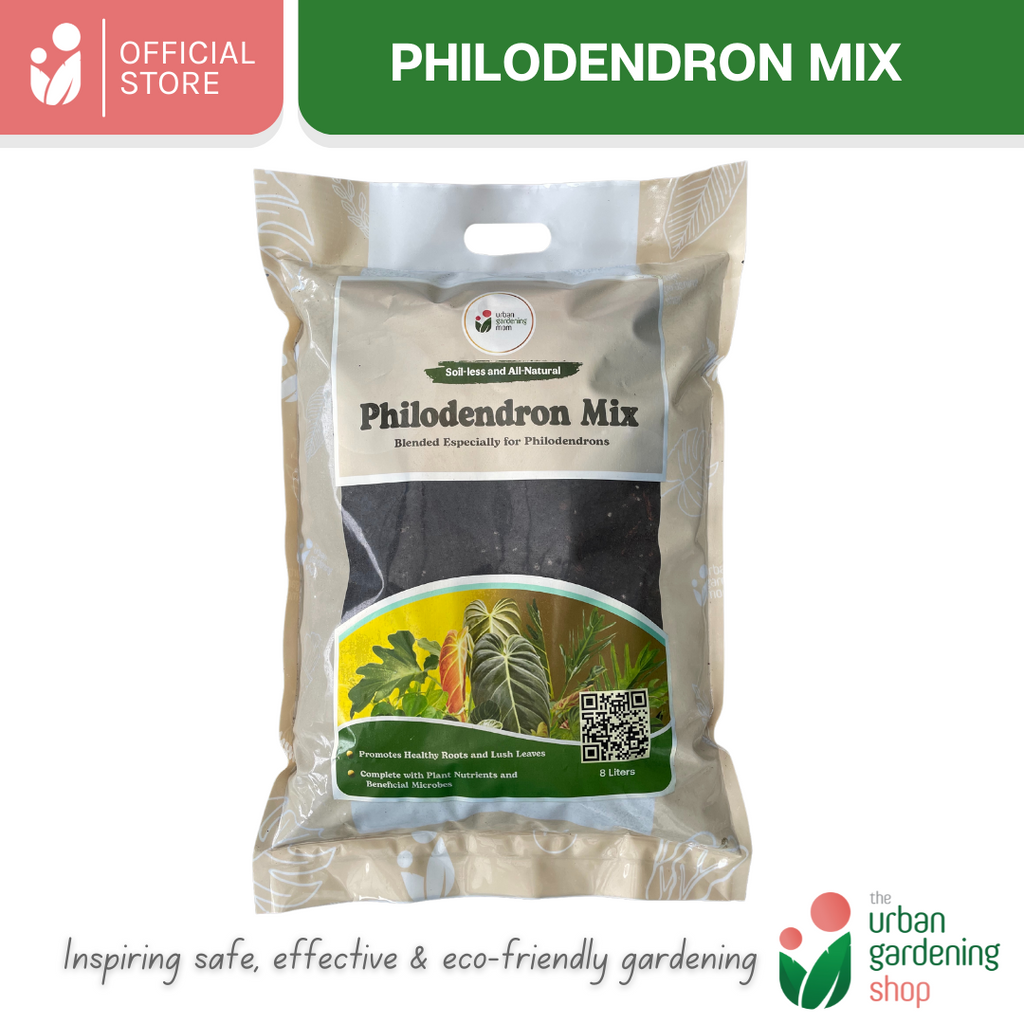 8-liter Philodendron Mix - Soilless Potting Mix For Philodendron Plants
₱ 350.00 ₱ 500.00
PREMIUM PHILODENDRON POTTING MIX
Best Soil-less Mix for Potted Philodendron Houseplants
8-liters per pack
Philodendrons are a genus of houseplants that are accustomed to tropical rain forests. In their natural...
PREMIUM PHILODENDRON POTTING MIX
Best Soil-less Mix for Potted Philodendron Houseplants
8-liters per pack
Philodendrons are a genus of houseplants that are accustomed to tropical rain forests. In their natural habitat, these plants are exposed to highly humid environments with regular rain showers. The soil contains lots of nutrients from decaying matter. While the roots are consistently exposed to moisture, the soil is able to drain well and with enough air pockets to allow oxygen to flow through.
Our Premium Philodendron Potting Mix is especially blended to provide these plants with an environment that mimic their natural habitat. This means loose, airy and well-draining soil, with lots of organic matter for a nutrient-rich grow media.
Like all our potting media, our Philodendron Mix is soil-less. We do not add garden soil or any type of soil because soil becomes sticky or compacted, which eventually leads to root decay. It is made with premium high quality materials to ensure that we deliver the maximum benefit for your plants and therefore, the most value for your money.
Why use our Premium Philodendron Mix?
LOOSE, LIGHT AND AIRY

This potting mix is light and well- draining, which allows air and water to flow through easily. Pine bark and coco chunks are added to create air pockets where oxygen can flow better to the roots. We've also added perlite and pumice, which provide better drainage so excess water will not stay at the roots for a long period of time.
RETAINS SUFFICIENT MOISTURE

High quality peat moss and coco peat retain just the right amount of moisture to allow the roots to absorb nutrients properly. Unlike the typical garden soil, these materials do not become compacted or sticky even as they break down over time.
ALL-NATURAL PREMIUM QUALITY MATERIALS

We use only premium natural materials for our potting media. Not only are they effective for your plants, our potting mix is also safe to use and environment-friendly.
COMPLETE WITH ORGANIC NUTRIENTS

We have added organic nutrients for your plants to feed them for several months. You don't have to apply any fertilizer for at least 3 months. Our potting mix retains just the right moisture that enables the roots to absorb nutrients as they are slowly released through the medium.
Also available at our online shops:

https://linktr.ee/theurbangardeningshop