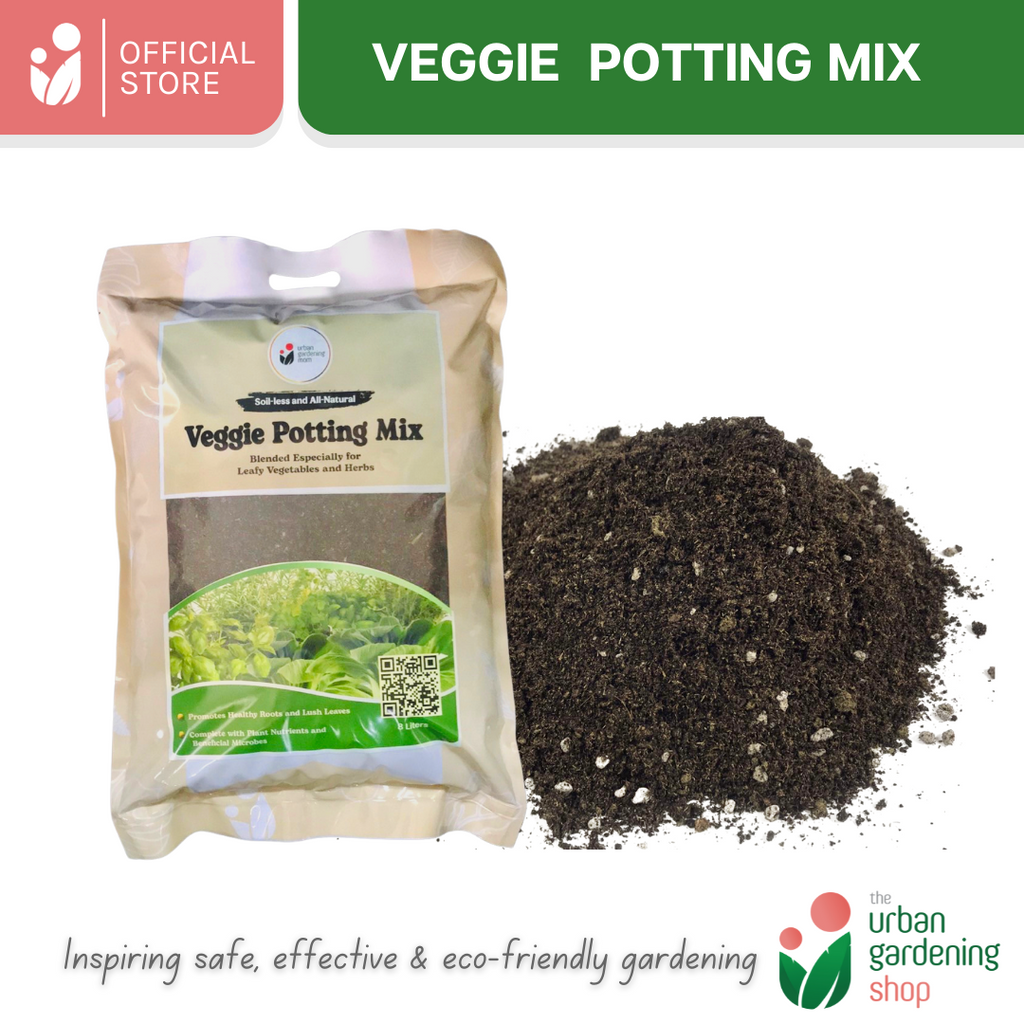 8-liter VEGGIE POTTING MIX Premium Soilless Potting Mix for Leafy Greens and Herbs
₱ 300.00 ₱ 400.00
VEGGIE POTTING MIX
Premium Soilless Potting Mix
For Leafy Greens and Herbs
Contains 8.0 Liters
Most leafy greens and herbs prefer moist...
VEGGIE POTTING MIX
Premium Soilless Potting Mix
For Leafy Greens and Herbs
Contains 8.0 Liters
Most leafy greens and herbs prefer moist soil or grow medium that is rich with nutrients or organic matter. But the mix should still be light, airy and well-draining. Our Veggie Potting Mix is especially blended for growing leafy greens and herbs.
We have carefully chosen the ingredients that go into all our potting mix, to ensure that they are not only of good quality, but must also be safe and eco-friendly.
LIGHT AND AIRY - Our potting mix is light and without soil. This means it does not get compacted or sticky like mud even after several months of use. Sticky or muddy soil tends to restrict the growth of roots. Our soilless mix on the other hand allows the roots to grow well.
PACKED WITH ORGANIC NUTRIENTS - Most vegetable crops feed heavily so they can produce more. Compared to our regular potting mix, this potting mix is packed with more organic plant nutrients which are needed for continued production of leafy greens.
MOISTURE RETENTIVE - Leafy greens and herbs grow best in consistently moist soil or potting mix. Our potting mix allows retention of sufficient moisture at the roots which also helps them absorb more nutrients.
pH BALANCED - pH Level measures at 6.0 - 7.0. This is the most suitable range for growing veggies, especially leafy greens.
INFUSED WITH BENEFICIAL MICROBES - We have infused this mix with beneficial micro-organisms that help in creating a healthier eco-system for your plants' roots.
 Also available at our online shops:

https://linktr.ee/theurbangardeningshop