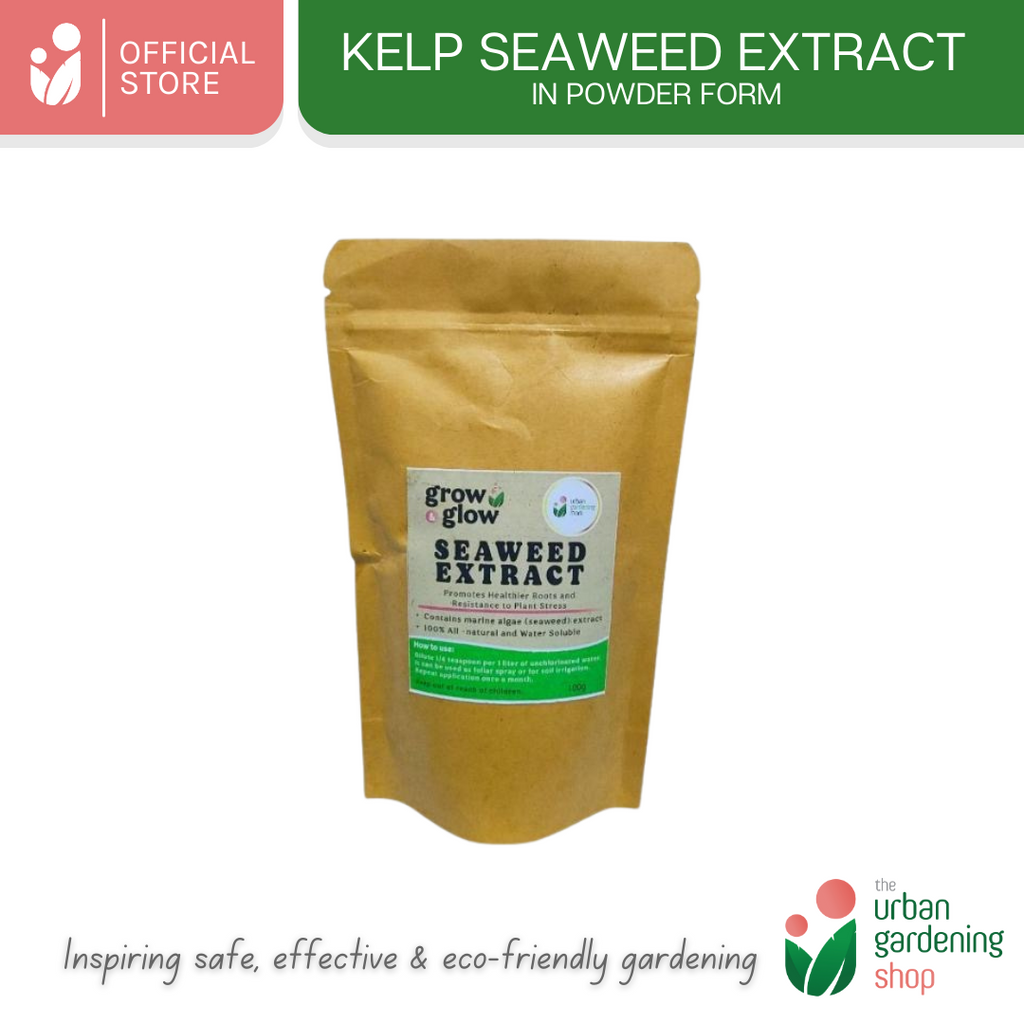 100g Kelp Seaweed Extract- An All- Natural Plant Food and Soil Conditioner
₱ 180.00 ₱ 240.00
Kelp Seaweed Extract
100g per Pack
How to use: Dilute 1/4 teaspoon per liter of unchlorinated water. Use as foliar spray or or to irrigate the soil. Repeat once a...
Kelp Seaweed Extract
100g per Pack
How to use: Dilute 1/4 teaspoon per liter of unchlorinated water. Use as foliar spray or or to irrigate the soil. Repeat once a month.
Shelf life: 2 years
For centuries, kelp seaweed has been used in gardening. Kelp seaweed extract, derived from various species of kelp or brown algae, offers several benefits when used as a plant supplement or soil conditioner. Here are some of the advantages of using kelp seaweed on plants:
1.     Growth promotion:
Kelp seaweed extract contains natural growth hormones, such as auxins, cytokinins,  and gibberellins, which can stimulate plant growth. These hormones help regulate cell division, elongation, and differentiation, resulting in enhanced root development, increased shoot growth, and overall plant vigor.
2.    Nutrient enrichment:
Kelp seaweed extract is rich in essential nutrients, including macronutrients (nitrogen, phosphorus, and potassium) and micronutrients (iron, zinc, magnesium, and others). These nutrients are readily absorbed by plants, promoting healthy development, and improving nutrient uptake efficiency. Additionally, the presence of natural chelating compounds in kelp helps in the mobilization and uptake of nutrients from the soil.
3.    Stress tolerance:
Kelp seaweed extract contains natural compounds such as betaines, mannitol, and alginates, which can enhance a plant's ability to withstand various environmental stresses. These substances help plants cope with drought,salinity, extreme temperatures, and other adverse conditions, thereby improving their resilience and survival rates.
4.    Disease and pest resistance:
The application of kelp seaweed extract can strengthen plant cell walls and improve their natural defense mechanisms. This can make plants more resistant to diseases, fungal infections, and pest attacks. Moreover, the presence of certain compounds in kelp extract, such as laminarin and fucoidan, has been shown to have antimicrobial and antifungal properties.
5.    Increased yield and quality:
The growth-promoting and nutrient-enriching properties of kelp seaweed extract often result in improved crop yields. Plants treated with kelp extract tend to produce larger and healthier fruits, vegetables, or grains. Additionally, the extract can enhance the nutritional composition of plants, leading to improved quality attributes such as higher nutrient content, enhanced flavor, and increased shelf life.
6.    Environmental sustainability:
Kelp seaweed is a renewable resource that can be harvested in a sustainable manner without harming the environment. Using kelp seaweed extract as a plant supplement can reduce the reliance on synthetic fertilizers and pesticides, contributing to more sustainable and eco-friendly gardening practices.
Also available at Shopee or Lazada:

https://linktr.ee/theurbangardeningshop